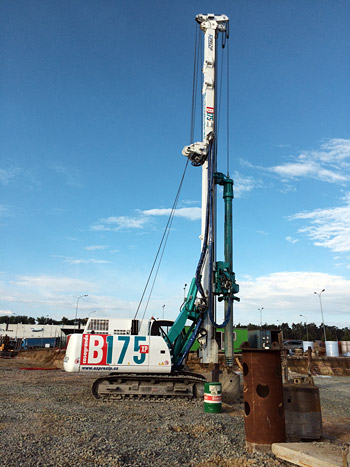 We specialize in building foundation and pile foundation structures.
The company is equipped with modern drilling machines CASAGRANDE and vibro pile-driver which allow the implementation of the formation even in extremely complicated geological conditions.
Pile foundations
We also successfully replace the footings, slabs and strips by the technology of pile foundation with piles of relatively small diameters, thus reducing investment costs.
We provide labour including the project of special foundations and focus and we also provide consulting services for investors and developers.
Basic work offers
bored pile foundations (up to 37 m depth) incl. technology CFA (countinuous drilling auger)
pile diaphragm walls, across-drilled pile walls
shaft sinking and deep trenches up to 12 m
triggering large-scale wells
pilings and support
ensuring pits and slopes
nailing, microriders, soldier beam and bracing walls, ground anchors
References
Since its foundation the company has successfully completed a number of demanding projects. Look at our chosen buildings from the field of foundation and pile foundation:
Contacts - Information and calculation
Ing. Zbynek Kaup
+420 721 242 056
Ing. Pavel Kratky

+420 725 395 978
Ing. Ruzena Halamkova

+420 702 010 388
---